Bright colors and an innovative design, RaceTrack Mats are interlocking foam mats with jigsaw puzzle sides that are easy and fun for children to piece together. Each mat has a place to visit with winding roads that extend to the centers of all sides so children can lay their race track course however they want, and the roads will always connect to each other. Combine more mats for a larger play area. Flip the mats over for a play area with a solid, multi-color square surface.
RaceTrack Mats are perfect for use in areas of recreation, daycare, preschool, basement, poolside, patio, laundry room, and your home gym.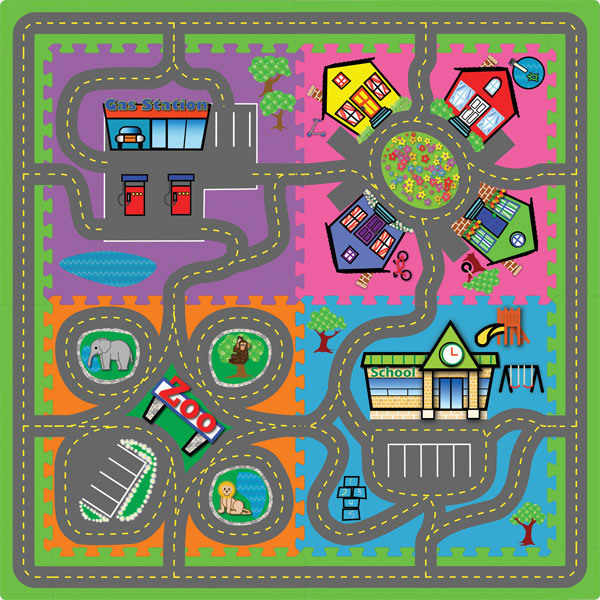 2 Ft. x 2 Ft. Mats (4) and RaceTrack Borders (8) J6CR2X2HD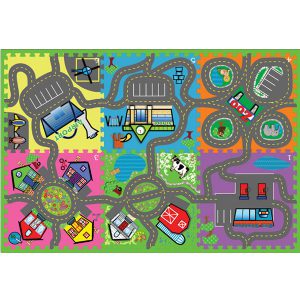 2 Ft. x 2 Ft. Mats (6) and foam borders (10) J6CR2X2A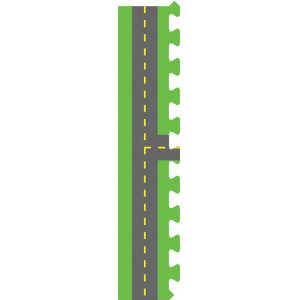 4 In. x 2 Ft. RaceTrack Borders (10) JCR4B
RaceTrack Borders - The perfect addition to the RaceTrack Mat (6-Pack)
Add more roads and driving fun to the RaceTrack Mat with RaceTrack Borders. Each border adds a speedway along each side and corner of the mat. RaceTrack Borders are 4 In. wide, giving the RaceTrack Mat more than 5 Sq. Ft. of extra play surface.
Product Specifications
4-Pack (J6CR2X2HD):
47.375 In. x 47.375 In. / 15.59 Sq. Ft.
55.125 In. x 55.125 In. / 21.10 Sq. Ft. with RaceTrack Borders
6-Pack (J6CR2X2A):
47.375 In. x 70.25 In. / 23.11 Sq. Ft.
48.75 In. x 71.875 In. / 24.33 Sq. Ft. with foam borders
55.125 In. x 78 In. / 29.86 Sq. Ft. with RaceTrack Borders

RaceTrack Borders:
4.75 In. x 23.875, 27.875 In.
Material:
Durable EVA Foam